The Australian Outback is a world like no other. It's full of discovery, heaps of wildlife (even settings where life shouldn't thrive), ornate landscapes ranging from scenic vistas to barren wastelands, and plenty of challenges the second you venture off the beaten track in your 4x4 – particularly when the sun goes down.
You see the second you leave the tarmac for a sense of adventure, visibility, or should we say the lack thereof, becomes a serious concern. And the worst part, you won't realise how much visibility you need on your 4x4 adventure until it's too late.
One thing you can do is upgrade your 4x4's factory standard headlights with some aftermarket driving lights – take our TJM Ultima LED driving lights for example. With our industry-leading aftermarket driving lights fixed to the front of your rig, your 4x4 will be able to effectively light the way ahead, spot potential hazards, keep an eye on the convoy and minimise animal strikes, while everyone else waits for the sun to rise. But at TJM, we wanted to go one step further and give 4x4 enthusiasts greater peripheral vision, increased visibility and additional utility, and with the TJM Ultima LED Light Bars, we have.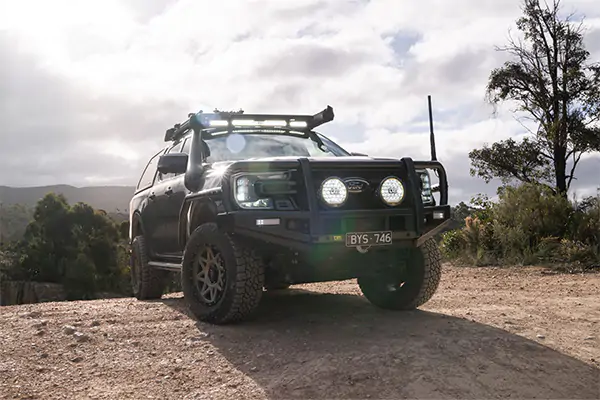 The best LED light bar for your 4x4
Whether you're setting up camp, performing a recovery, crusading through sand dunes or crossing the Simpson Desert, the TJM Ultima LED Light Bar has got all of your visibility needs well and truly covered.
Just like our TJM Ultima LED driving lights, our Ultima LED Light Bars are equipped with advanced Osram LED technology giving them the ability to produce a high output of crispy, white light, resulting in incredible brightness over long distances. And to take this even further, our designers incorporated the same aluminium metallised reflector to expertly direct the LEDs with precisely scalloped hybrid parabola optics – the result is unparalleled light performance across the board.
On top of delivering outstanding light output, they're built seriously tough. Housed in exceptionally strong pressure die-cast aluminium, offering IP68 & IP69K water and dust proof protection, and even feature UV-resistant, hard coated polycarbonate lenses. Add to this, an Active Thermal Management System (ATMS) to ensure consistent performance, reverse polarity protection, and a massive, unmatched 10-year manufacturer warranty.
Now, it's time we talk about Lux, Lumens and overall Output. Available across two different sizes, a 24" LED Light Bar, with a beam type of long & wide or ultra wide flood, and an 8" LED Light Bar Pair, with a beam type of ultra wide flood, you're spoilt for choice no matter your LED Light Bar preferences.
The TJM Ultima 24" LED Light Bar, available in both versions, is equipped with 38 high-powered LEDs. This results in a robust standard output of 25,840 raw lumens, 16,450 effective lumens, a maximum power of 325W, and a current draw of 24A at 12V. In terms of its beam length, it boasts impressive measurements with 900m at 1 Lux for the Hybrid version and 750m at 1 Lux for the Flood version. As for the beam width, the TJM Ultima 24" LED Light Bars shine brightly, measuring 65m at 1 Lux for the Hybrid and an even broader 95m at 1 Lux for the Flood variant.

On the other hand, the TJM Ultima 8" LED Light Bar, sold in pairs, features 15 high-powered LEDs per bar. Its standard output is substantial, producing 20,400 raw lumens, 13,220 effective lumens, a maximum power of 244W, and a current draw of 18A at 12V. Despite its compact size, the beam width and length are notable. Specifically, the length measures at 385m at 1 Lux for a single bar and extends to 550m at 1 Lux when both bars are used. The width measures at 50m at 1 Lux for a single bar and expands to 70m at 1 Lux for the pair.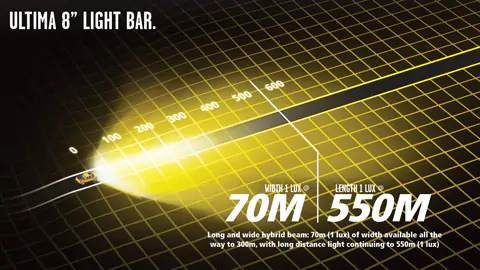 But our designers didn't stop there!
They equipped both LED Light Bars with a unique Boost setting, which provides an extra 15% of power for 30 seconds. And to activate at a moment's notice, it's as easy as pushing a button - literally! Compatible with our highly innovative Connect+ Controller, you're able to maximise the output performance of your TJM Ultima LED Light Bars with full control over beam shape and beam intensity to suit your driving conditions. The non-invasive controller comes with pre-set road condition settings to automatically attune your Light Bar to suit dirt roads, 4WD tracks and even highway driving.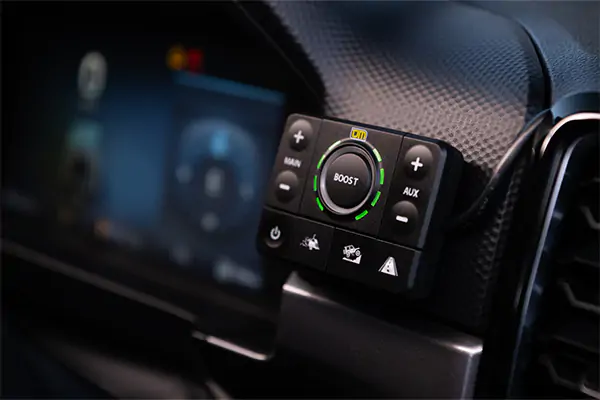 You can also manually increase/decrease the output or push the Boost button to override all settings for up to 30-seconds of intense beam output, measuring at:
TJM Ultima 24" LED Light Bars
27,360 raw lumens
18,350 effective lumens
390W max power
30A @ 12V current draw
TJM Ultima 8" LED Light Bars (Pair)
21,600 raw lumens
14,840 effective lumens
274W max power
20.4A @ 12V current draw*
As far as aesthetics go, we've got you covered. Donning our iconic TJM branding, along with an attractive yellow trim and black powdercoat, and three customisable inner trims, good looks at the front of your rig are a given. Lens protectors, tinted and clear, also come as standard, ensuring lights look newer for longer and don't discolour over time.
TJM Ultima 40 & 48" joiner kits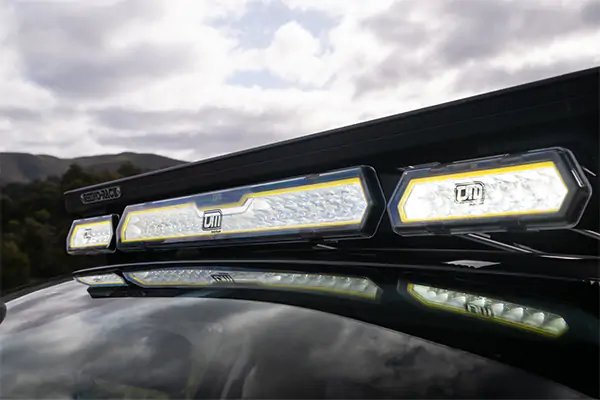 The latest additions to our TJM Ultima Light Bar range includes our Joiner Kits. These kits allow the customisation of our 8" and 24" light bars to build an extended 40" Light Bar or 48" Light Bar. The unique aluminium die cast joiners create an ultimate high performance light bar with adjustable options, allowing you to choose the beam pattern projected in front of you.


Give your 4x4 the best LED light bars in Australia
From the next-level premium Osram LEDs to the virtually unbreakable housing, incredible light output, and Connect+ Controller compatibility, the TJM Ultima LED light bars are built for any adventure. If you're ready to give your 4WD the LED Light Bar needed to conquer the Australian Outback, drop into your local TJM and get the TJM Ultima LED Light Bar fixed to the front of your rig today.
ADR rules & regulations you need to be aware of in Australia
Before making a purchase and installing additional driving lights of any kind to your 4x4, please review the ADR 13/00 installation guidelines and operating mode, in full on the Federal Register of Legislation page. We also recommend looking up your state's individual rules and regulations around installing driving lights, as laws can differ between states and territories, and can change from time to time.
You can find each state & territories' guidelines below:
South Australia | Victoria | Western Australia | Northern Territory | Queensland | ACT |
Tasmania | New South Wales