Ah, the allure of camping: the embrace of nature, the absence of cell service, the camaraderie, and the timeless tales shared around a campfire. These moments are what make camping an unforgettable experience. But as any seasoned camper will tell you, for those trips that unexpectedly extend from a weekend to a week, comfort becomes paramount. After all, the charm of the great outdoors can quickly wane if you're cold, wet, and sleep-deprived.
So, how do you strike a balance? How do you immerse yourself in the wild while retaining some home comforts? Here's your guide to achieving that perfect blend.
Crafting Your Relaxation Zone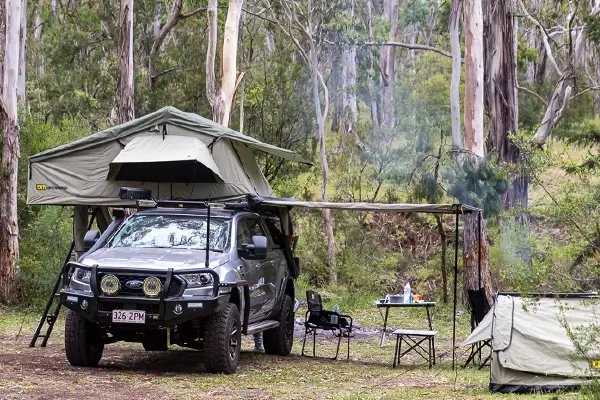 Your tent is more than just a shelter; think of it as your bedroom in the wilderness. To elevate and expand your campsite space, consider adding an awning, which effectively acts as your living room. With walls added or even a whole awning room, you're shielded from the elements, ensuring a cosy space regardless of the weather. If you're travelling with multiple 4WDs, each equipped with an awning, you're essentially creating a mini campsite village, each with its own purpose. And for those seeking the best, TJM Awnings are a top pick. They're easy to set up and come in a variety of sizes to suit every need.
Illuminate Your Nights
The night sky, dotted with stars, is undoubtedly mesmerising. However, it's not always sufficient to light up your site, especially on cloudy nights. Adequate lighting, from camping lights to vehicle-mounted lighting and a trusty lantern in your tent, can make a world of difference. It not only provides comfort but also ensures safety during nighttime activities. Products like Compact Work lights or Camping Lights with Motion Sensors are excellent choices.
Prioritise Sleep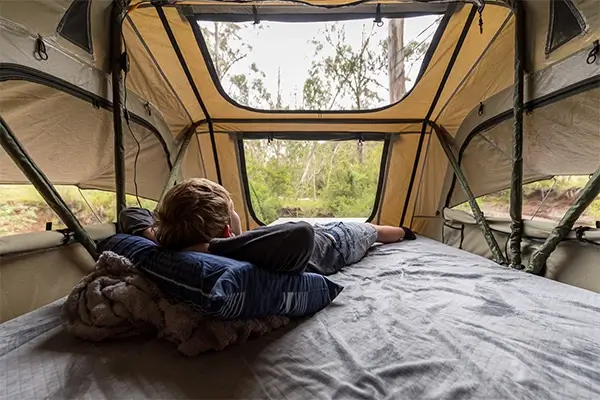 Never underestimate the power of a good night's sleep, especially when camping. Today, there's no need to endure a restless night on uneven ground. With options like Double Swags, camping stretchers, dome tents, or top-notch camping mattresses, you're guaranteed restful slumber. For those venturing into colder terrains, advanced sleeping bags or inflatable airbeds are a must. And for a luxurious experience, the TJM Soft Shell Roof Top Tent is unparalleled, offering features like waterproofing and a unique stargazing window.
Luxury Facilities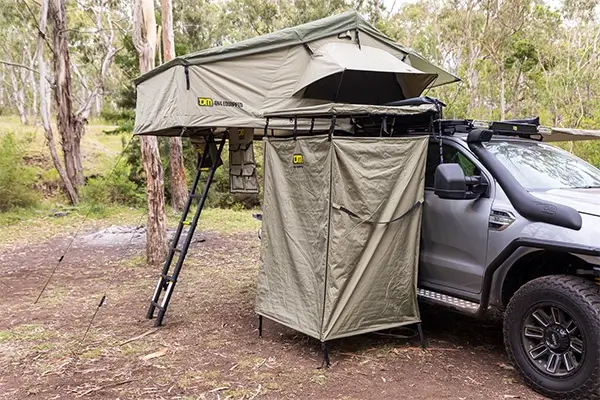 Want the creature comforts and privacy of the facilities back home? TJM has got you covered (literally) with the TJM Shower Tent, providing privacy and ease for showers or quick wardrobe changes outdoors while you are on your off-roading adventures. Throw in a TJM Shower Tray, and you'll find yourself enjoying all the creature comforts of home, no matter where your journey takes you.
Ensure Comfort Underfoot
The wilderness is unpredictable, and while the idea of walking barefoot might seem appealing, it's often fraught with risks. But with the right camping mats, you can comfortably roam your campsite. In wet conditions, traditional mats might not suffice. That's where the TJM Waterproof Ground Mat comes in, ensuring dryness regardless of the weather.
Think About Seating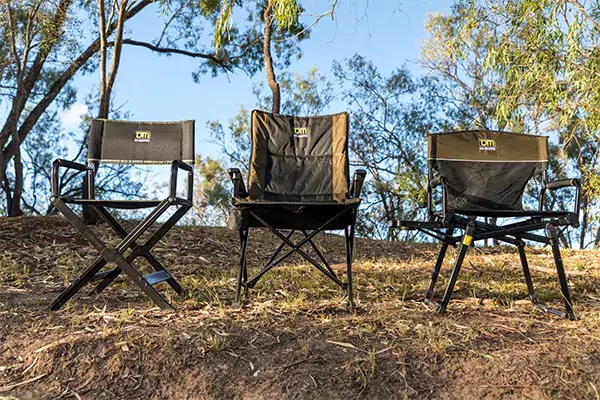 A comfortable seating arrangement can significantly enhance your camping experience. While outdoor furniture can be cumbersome, with adequate transport capacity, it's worth the effort. Products like the TJM High Back Chair and Camp Table are versatile, perfect for everything from meals to leisurely lounging.
Warmth and Culinary Delights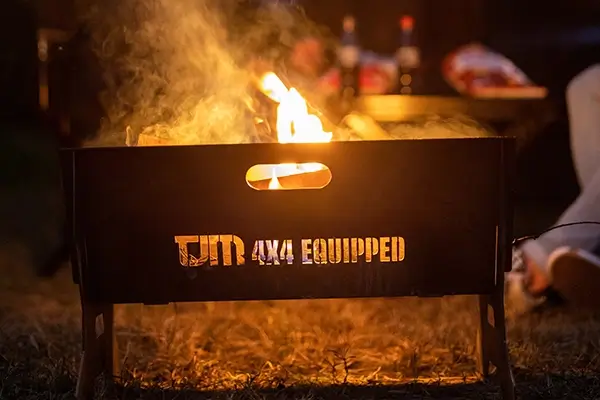 A Fire Pit is more than just a source of warmth; it's the heart of a campsite. It offers a communal space for cooking and gathering. Its versatility makes it a must-have, providing both warmth and a diverse cooking area. Whether you're in the mood for roasted marshmallows or a freshly brewed cup of coffee, a fire pit has got you covered.
Efficiently Transport Your Gear
Lastly, consider how you'll transport all this gear. A camper trailer is an invaluable asset. It not only saves space in your vehicle but also ensures you have everything you need without compromising on comfort.
In essence, camping is an art. And like any art form, it requires the right tools and techniques. With this guide, you're equipped to dive into nature without forgoing the comforts of home. So, pack up, head out, and let the adventures begin!