Add extra protection and functionality to the back of your 4x4 with a TJM rear bar.
Whether you're on a bumpy track or in a carpark, the back of any 4x4 is susceptible to panel and bumper damage. With a TJM RB6 Rear Step Tow Bar, you can guard the back of your 4x4 and give yourself peace of mind. Thanks to its thick 63mm-diameter steel tubing and durable alloy treadplate, a TJM RB6 Rear Step Tow Bar offers supreme protection while making rear vehicle access simple and safe.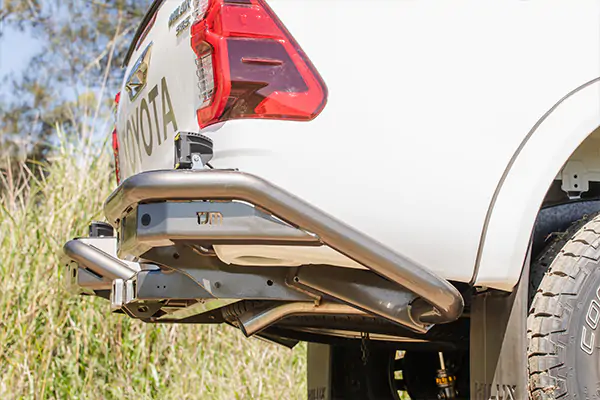 WHY CHOOSE A TJM REAR PROTECTION STEP TOWBAR?
In addition to protecting your vehicle, a TJM RB6 Rear Step Tow Bar adds extra functionality to your 4x4. RB6 bars are tested to ensure they meet heavy-duty class 4 tow bar standards, which means they're capable of towing the max towing capacity of your vehicle (as set by the vehicle manufacturer). They also feature unique reinforced T-slots for simplified hi-lift jack recoveries, while vehicle-specific features like parking sensors are accommodated in each TJM RB6 Rear Step Tow Bar.