Shield the vital components of your 4x4 with a set of TJM Underbody Guards.
Underbody damage can put an end to any off-road trip, but you can protect your vehicle and keep the adventure going with TJM's range of underbody guards. TJM Underbody Guards are constructed from 3mm-thick steel that's been press folded to maximise impact resistance, while their shaped pressings reduce the weight and increase the strength of each guard. Finally, each TJM Underbody Guard is finished with a black powder coat that delivers a clean look and excellent corrosion resistance, allowing you to worry less about what's beneath you and more about what's in front of you.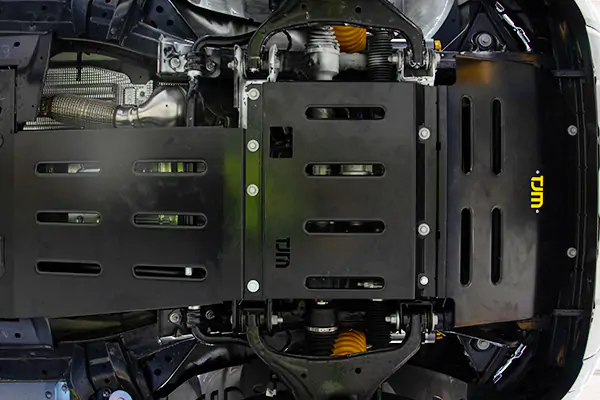 Why is a tjm under body guard essential for your 4x4?
TJM produces a full range of guards to ensure your 4x4's underbody is covered on your next journey. This includes front underbody guards, sump guards, transmission guards and transfer case guards (only applicable on selected models), which combine to fully protect the vulnerable underside of your vehicle.