THE ULTIMATE PROTECTION SUITE, ENGINEERED BY TJM.
Backed by superior Australian engineering and class-leading testing, the 4x4 accessories you need to stand out from the crowd are here.
Our wide range of premium accessories for the new Ford Ranger includes; Bull Bars, Side Steps, Rear Bars, Underbody Protection, Canopies, Airtec Snorkel and Suspension Lift Kits.
Custom-made for high performance off-road, when it comes to getting the most out of your Ranger that can be sorted by talking to your local TJM expert today!
XGS Suspension and GVM Upgrade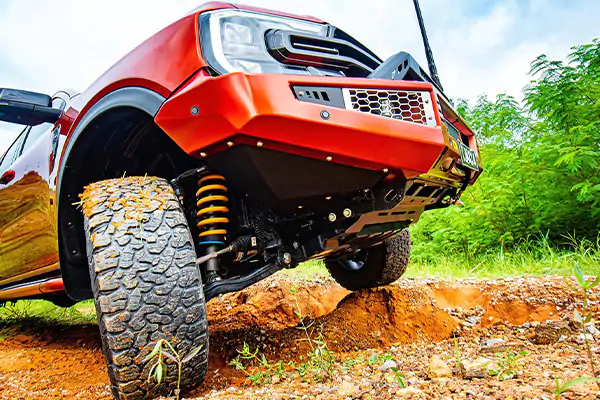 When a vehicle first hits the market, the manufacturer ensures that the suspension system has been designed for the most common applications. Unfortunately, when this comes to 4WDs, the OEM suspension setup just isn't fit for purpose when it comes to off-roading performance.
But that's where XGS comes in. XGS allows for complete customisation of your suspension system to meet your specific 4wd requirements. Have a rig that's equipped to 'Handle Anything' from touring to intense 4WD adventures to towing a caravan across the country.
Aftermarket XGS Suspension Lift Kits to suit Next Gen Ford Ranger MY22 include XGS Roamer, and XGS Remote.
Coming Soon: GVM Plus upgrade to increase the load-carrying capacity of your Ford Ranger MY22, ensuring you can tow with confidence and comfort.
TJM'S LEGENDARY BULL BARS
Built for those rough and tough journeys, the TJM Bullbar range is an absolute must-have when it comes to protecting vital components at the front of your 2022 Ford Ranger.
TJM's range of bullbars to suit Ford Ranger MY22 include the Venturer Bar, Outback Bar and the Tradesman Bar.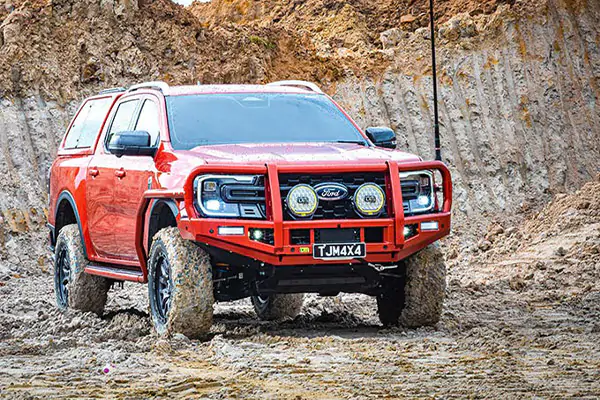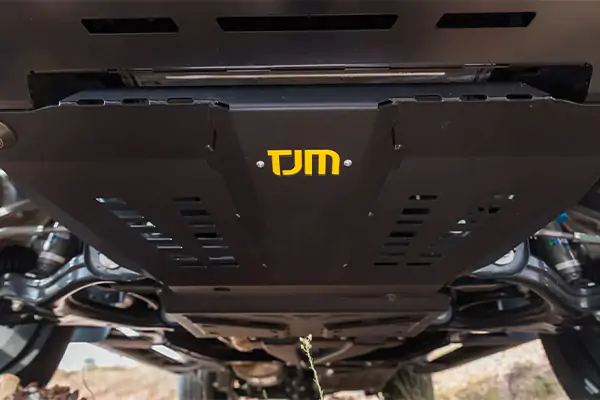 To keep the adventure going and give yourself instant peace of mind when traversing a rock-ridden stretch, TJM's Underbody Guards are a no-brainer.
Add extra protection and functionality to the back of your 4x4 with a TJM rear bar. Thanks to its thick 63mm-diameter steel tubing and durable alloy treadplate, a TJM Rear Step Tow Bar offers supreme protection while making rear vehicle access simple and safe.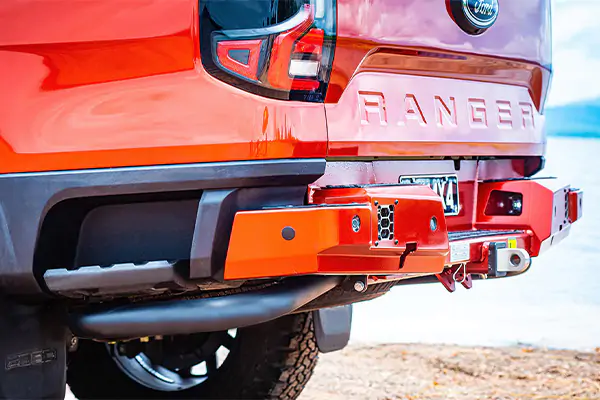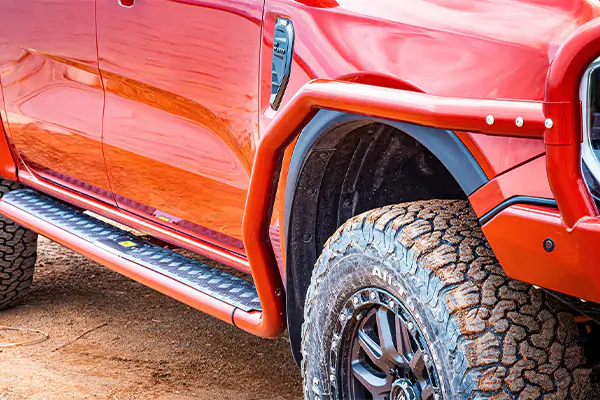 TJM's modular range of side protection steps offer easy access and lower side protection for your Ford Ranger. In the event of a side impact, TJM Side Bars are there to protect your Ford Ranger, while also preventing airbag deployment during softer collisions.
The TJM Side Steps feature a highly durable alloy checker treadplate to make accessing your vehicle easier, quicker and safer.When combined with side bars your Ford will have excellent wheel arch, flare, sill and panel protection.
Give your vehicle a breath of fresh air with a TJM Airtec snorkel. Fitting a TJM Airtec snorkel means air supply is drawn from roof level, providing cooler and cleaner air to the engine. This will help extend the life of the air cleaner element and reduce the wear of vital components. Snorkels also assist with deep water crossings and provide hassle free air induction in dusty conditions.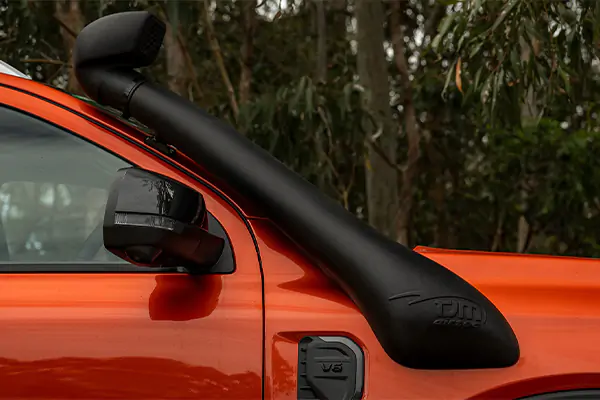 The new TJM Premium Canopy is a feature rich canopy, perfect for those who are looking for a convenient solution for their dual cab. Constructed from highly durable Fibreglass and finished in smooth colour-coded paint to match your ute. Featuring sleek and modern frameless windows, with tinted tempered glass, fully integrated central locking, self-lifting side windows, in-built demister, an LED brake light and an interior LED light. You can be rest assured that your cargo will be kept safe and secured in style!
An Aeroklas Stylish Canopy PLUS to suit Ford Ranger MY22 Dual Cab leads the market, with world-class manufacturing and technologies for ABS (Acrylonitrile Butadiene Styrene) double shell canopies. Incredibly lightweight and strong, Aeroklas canopies feature a unique twin-skin design that is strong enough to withstand the harsh Australian conditions and light enough that it won't add a 'tonne' of weight to your vehicle. Colour coded to the highest OEM standards, Aeroklas canopies will keep your vehicle looking smart for years to come.
Add roof racks for even more storage! Aeroklas By Rhino Racks are fully engineered to carry up to 80kgs on the roof of your Aeroklas Canopy
When you lift your vehicle above its factory standard parameters, you're potentially losing a degree of castor and camber adjustment for every inch you lift your vehicle. XGS Upper Control Arms solves alignment issues by providing up to 3 degrees of additional castor & camber to regain those lost degrees of adjustment.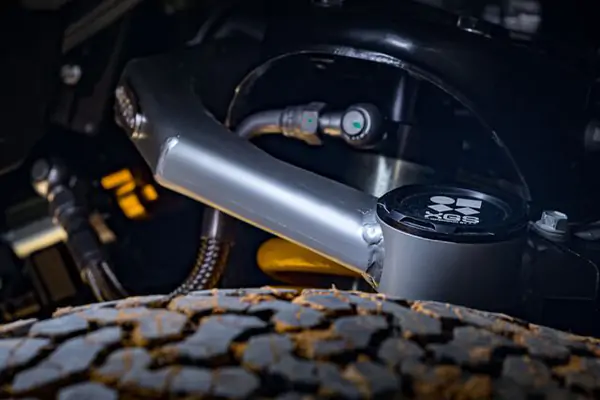 TJM MODIFIED FORD RANGER MY22 TURNED INTO OFF-ROAD SUPER WEAPON.
TJM's engineers have custom designed each accessory to give you the ultimate performance from your new Ford Ranger.
All of our accessories for Ford Ranger go through rigorous, class-leading testing to ensure they are incredibly capable in extreme Australian conditions.
Watch the behind-the-scenes testing process to see the testing regime that went into our Ford Ranger Bull Bar range.
DESIGNING AND MANUFACTURING
SERIOUS 4WD EQUIPMENT SINCE 1973.
* Images used for illustrative purposes only, actual product may vary.