LC300 Accessories.
Engineered by TJM. Built for you.
Presenting our range of TJM 4x4 accessories custom built to suit the 300 Series Landcruiser.
We're pleased to announce that the wait is finally over for you to get your hands on our much anticipated LC300 accessories. Our engineers have worked tirelessly perfecting, customising and designing this market-leading range, to ensure our LC300 true fit accessories are attuned to the legendary TJM reliability we showcase in all that we do. It's time to declare yourself as king of the Outback with these fully loaded TJM accessories, and take your LC300 where others simply wouldn't dare.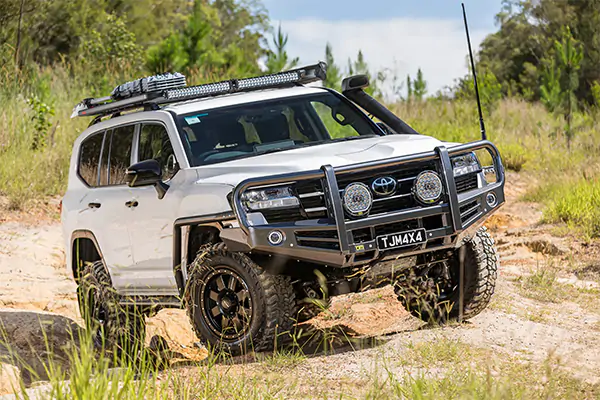 Out Now! XGS Suspension, Upper Control Arm and GVM Upgrade
When a vehicle first hits the market, the manufacturer ensures that the suspension system has been designed for the most common applications. Unfortunately, when this comes to 4WDs, the OEM suspension setup just isn't fit for purpose when it comes to off-roading performance.
But that's where XGS comes in. With XGS, you're actually able to fully customise your suspension system based on your individual four-wheel-driving needs. Whether it's primarily used to touring, intense 4WD adventures or towing a caravan across the country, with XGS you'll actually have a rig that's fully equipped to 'Handle Anything'.
Available Suspension to suit include , XGS Roamer, GVM Plus Upgrades and Upper Control Arms The XGS Remote is specifically tailored to fit the Series 79, 200, and 300 Landcruiser models. On the other hand, the XGS Rugged and Roamer kits are designed exclusively for the 79 and LC300 series. While you're here, we invite you to see if you meet the requirements for a GVM Upgrade. Additionally, we are pleased to introduce a new addition to our XGS lineup: the upper control arm (UCA) that can be installed on LC200, LC300, and Prado 150 series vehicles.
The Ultimate Protection Suite
Gear up for your next adventure with TJM's Bull Bar Range. Vehicle protection keeps your vehicle and its occupants safe from hazards that are common in off-road conditions. Thankfully, TJM has a complete range of protection products to suit the Toyota LandCruiser 300 series that adds ultimate protection and bold style to your 4WD.
This includes our famed bull bar range – each of which include integrated 8000 kg rated recovery points. This range includes the Outback Bull Bar, Signature Bull Bar and the Venturer Bull Bar
Underbody Protection. Built for true off-roaders.
For those embarking on cross-country journeys through ravines, waterways, deserts or mountain ranges, TJM's Underbody Guards are exactly what you need to keep your LC300's vitals safe and sound without slowing down. Backed by a press formed and welded steel construction for maximum impact strength, our Underbody Guards are equipped to take some serious brunt from rigid obstacles such as tree stumps or piercing rocks with absolutely no fuss. To keep the adventure going and give yourself instant peace of mind when traversing a rock-ridden stretch, TJM's Underbody Guards are a no-brainer.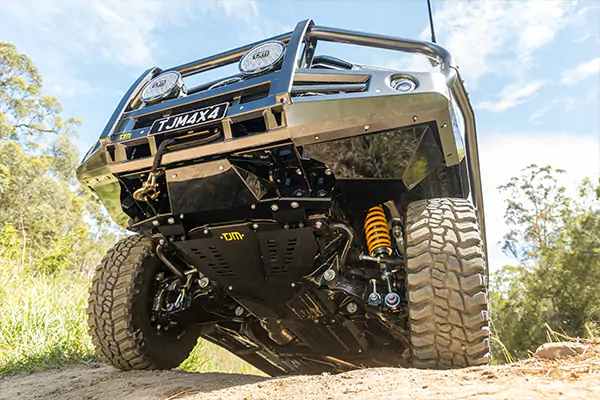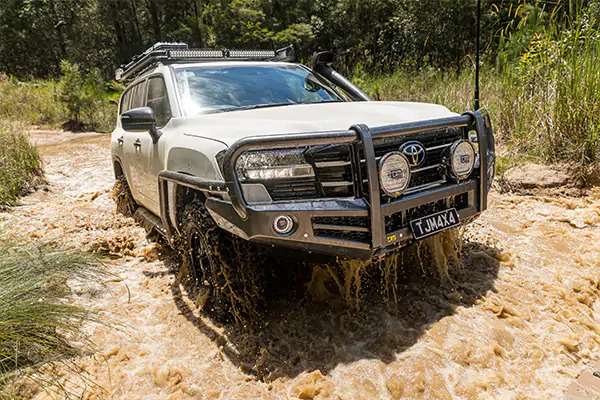 Heavy-duty side steps & bars
Aside from all the mud and dirt covering your workhorse after a thrill-seeking weekend away, keeping your LandCruiser 300 Series free from dents and scratches is easy thanks to our precision engineered Side Steps & Side Bars. Built for any adventure, the latest generation of TJM Side Steps & TJM Side Bars make protecting your broadside easy, thanks to a heavy-duty 63mmØ steel tubing construction that's finished in a black satin powder coating to maximise durability.
The TJM Side Steps also feature a highly durable alloy checker treadplate to make accessing your vehicle easier, quicker and safer. The TJM Side Steps and TJM Side Bars are also uniquely designed to be modular. This means a TJM Side Step can be fitted independently of a Side Bar, giving you the freedom to have Side Steps fitted to your LC300 and the option of adding Side Bars later.
For any and all off-roading in your LandCruiser 300 Series, preventing dust and water from entering your engine is absolutely imperative and can't be understated. With the TJM Airtec Snorkel, you can off-road in confidence knowing you've got the best level of protection possible from this proudly Australian made and quality assured accessory.
Developed to mould perfectly against the LC300's unique body shape, TJM's Airtec Snorkel has been designed to withstand the harshest Australian conditions with incredible impact resistance and durability highlighting this incredible accessory. Backed by its innovative Airtec Ram, concerns about rain or moisture from entering the engine bay won't even cross your mind as you're barrelling through desert straights drawing in nothing but clean air, while enhancing fuel efficiency and keeping air filters clean.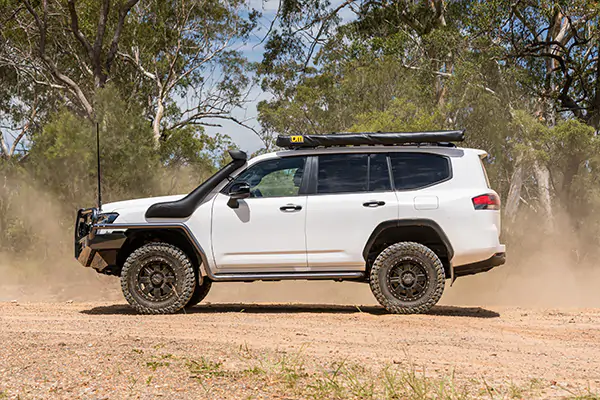 Professional In-Store Fitment
Ready to get your Toyota LandCruiser 300 Series 4x4 equipped? Head in to your local TJM today to talk to and expert and get a vehicle fit-out that suits you and your needs. Every TJM store is equipped with a showroom and fully functional workshop, meaning our stores are equipped to complete 4x4 fit outs, dual battery systems, communications installations, pre-trip inspections and more. Plus, when you get 4x4 equipped at TJM, you can do so knowing that you're backed by a nationwide network of stores to support you.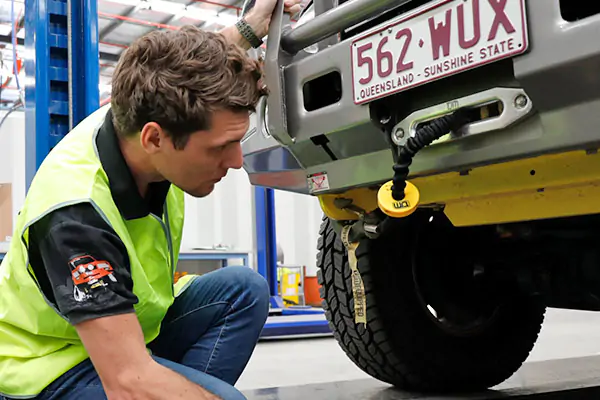 DESIGNING AND MANUFACTURING
SERIOUS 4WD EQUIPMENT SINCE 1973.
The words Toyota® and LandCruiser™ (plus associated logos) are trade marks owned by or licensed to the Toyota group of companies.